CORRIDOR 8173 MEDIA CONSOLE
FEATURES
Soundbar Platform
Hidden Wheels
Adjustable Shelves
Rear Access Panels
Flow-Through Ventilation
Cable Management
Tempered Glass Top
TV Safety Strap
MATERIALS
Stained Solid Wood
Satin-Etched Tempered Glass
Hardwood Veneer
Powder Coated Steel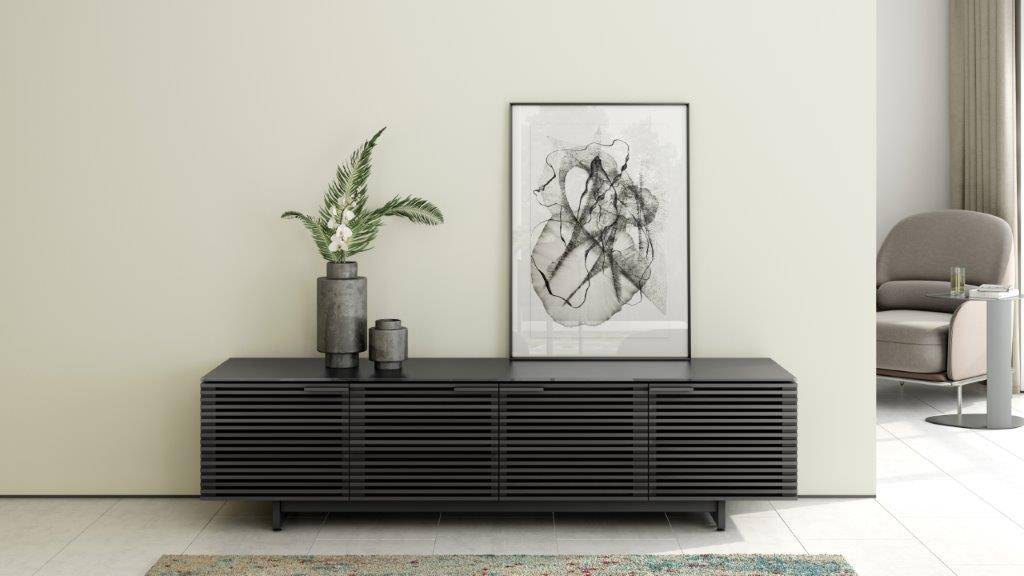 Shown Above in Charcoal Stained Ash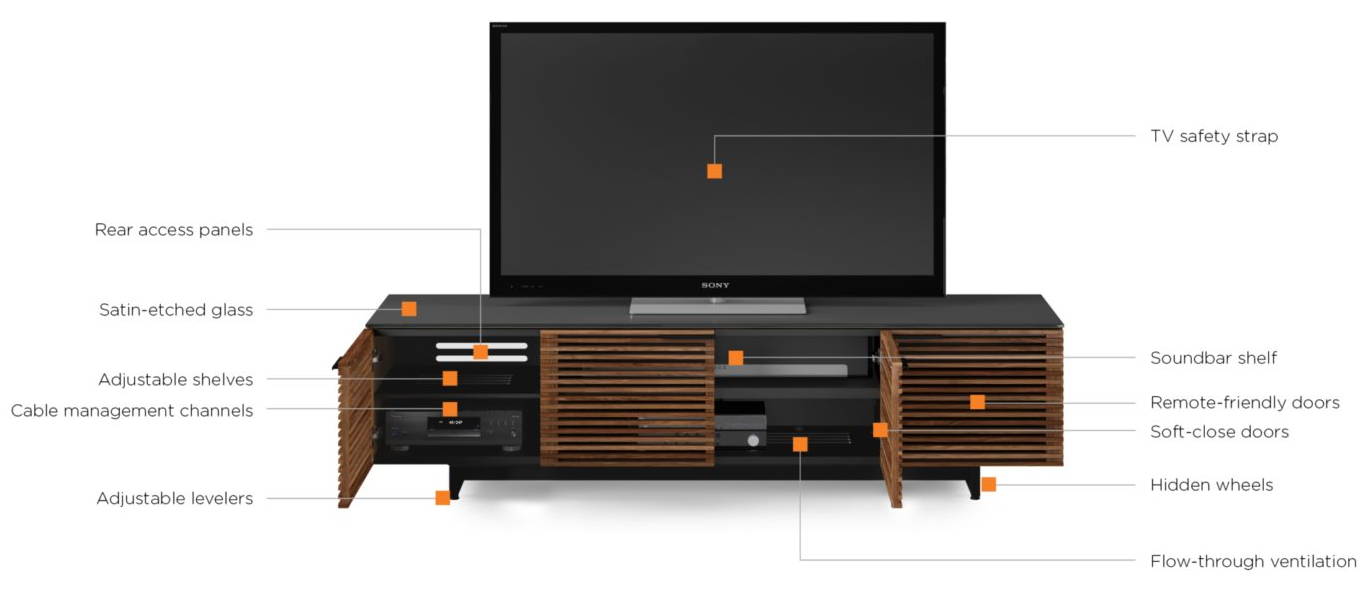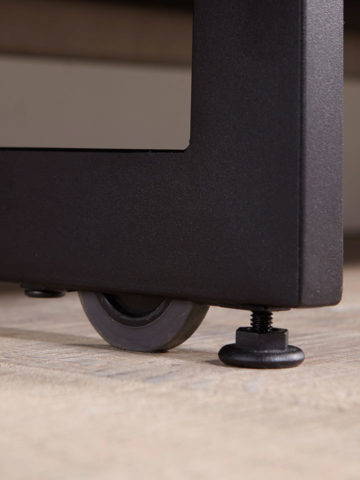 HIDDEN WHEELS
Ease of Movement
Concealed wheels make movement and access to cables a breeze. Levelers help to balance on uneven floors.
CABLE MANAGEMENT
Clutter Control
Cable cut-outs, integrated routing channels, cable straps, and removable back panels keep wires organized.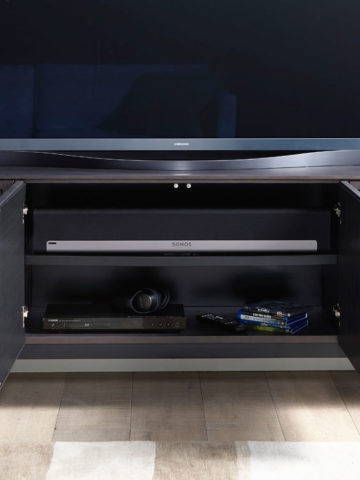 SOUNDBAR SHELF
Heard, But Not Seen
A perfectly positioned soundbar shelf integrates a speaker—and full audio dispersion—into the overall design.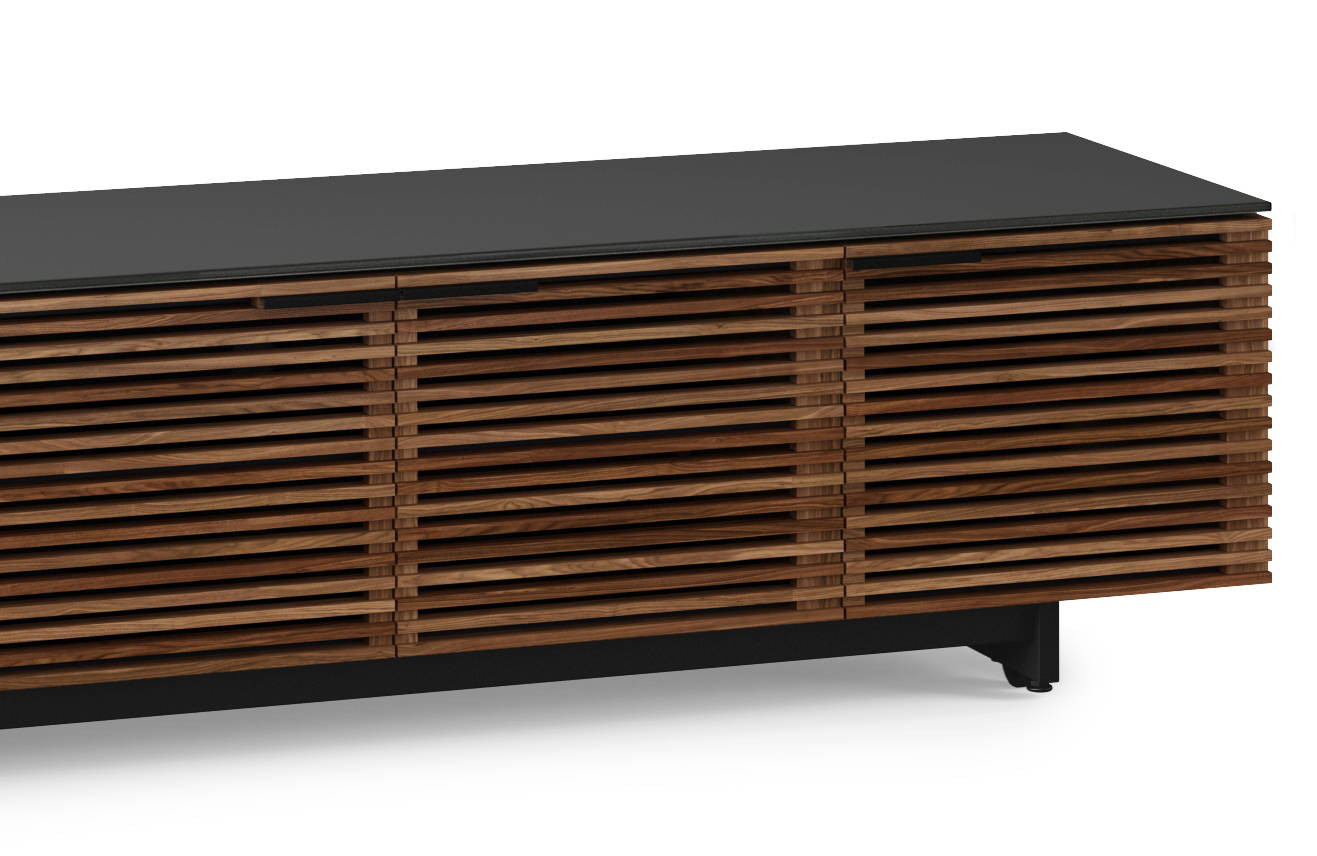 Louvered doors conceal a host of storage for your gear, keeping electronics neatly out of sight but easily accessible via remote control.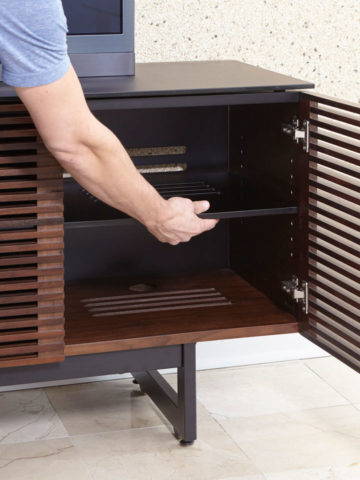 ADJUSTABLE SHELVES
Adjust with your system.
Adjusts to accommodate AV components, while threaded inserts reduce vibration and let you securely reposition as needed.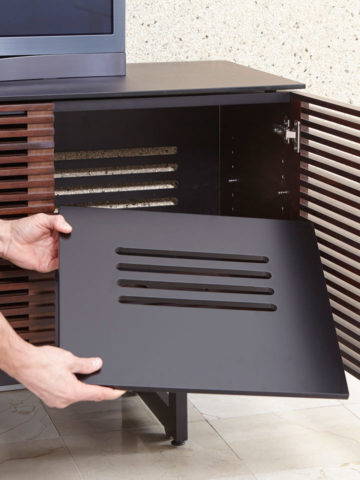 BUILT-IN VENTILATION
Keeping things cool.
Ventilation slots in the bottom panels, back panels, and shelves promote airflow, keeping electronics cool.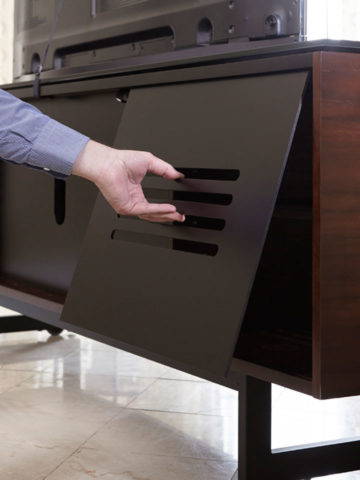 REAR ACCESS PANELS
Component access.
Ventilated rear panels slide or can be removed for easy and unfettered access to the rear of components.
This highly durable tempered glass has an unbelievably soft finish that provides protection from dings, scratches, and even fingerprints.
Generous cable cut-outs, hidden wheels, and removable rear panels preserve the uncluttered design while providing easy access to connections. TV safety strap included.
A design that easily transitions from media cabinet to all-purpose furniture, with louvered doors that ensure components stay out-of-sight while air, sound, and media signals pass freely through.